Pragmatic Applications for Downtown Professionals
Presented by Cody Johnson at DCI IN THE GAME Conference 2023
Introduction
Exploring Emerging Trends in the Tech Industry
Why Artificial Intelligence is Having a Moment
What is AI, and how it is currently used across the internet
Generative AI: AI's Growth in the Mainstream
Common misconceptions about AI
Use cases and examples
Practical Use Cases for Downtown Professionals
Marketing automations
Content creation
Personalization or A/B Testing
Use cases and examples
Who's the Author when using AI?
AI's role in authorship
Best practices across a variety of use cases
Don't be an Output!
Introducing Pearl, the Downtown Boulder Chatbot
Demo of a localized chatbot trained for business resource sharing, itineraries or other userful service-oriented questions.
Mainstream adoption
Why Artificial Intelligence is Having a Moment
What is AI? How is it currently used across the internet

Three Types of AI

Generative AI: AI's Growth in the Mainstream
Narrow AI
All AI systems ever developed are Narrow AI.
Examples:
YouTube Algorithms
Siri or Alexa
Facebook Feeds
ChatGPT
General AI (AGI)
Artificial General Intelligence: stated goal for many AI companies.
Differentiated most notably by self-awareness
Discussions already about GPT-4
Superintelligence (ASI)
 Entirely hypothetical – an AGI that rapidly self-improves its systems by learning and optimizing the algorithms its trained on.
Ethical Concerns
If AGI achieved, likely outcome due to self-improvement
ChatGPT launched in November 2022. It surpassed 100 Million users in only 2 months, making it the fastest growing consumer product ever.
Took Instagram 2.5 years to achieve that milestone.
How the Tech Industry is Responding

Microsoft Office, Copilot, Google Workspace, Meta Ads

Generative Art & Music Tools

Other Use cases and examples

Voice Emulation

Animation, Video & 3D Asset Creation

University & Education Challenges
Common Misconceptions about AI
Far from being self-aware
Diversity and bias
Too much hype to say its exact impact
Practical Use Cases
AI in Marketing Communications
Personalize a generalized marketing newsletter for art event attendees
Write your newsletter once, use AI to personalize based on audience
Conduct A/B Testing to measure your results
Create a marketing calendar for new programs or events
Flesh out a marketing calendar for a new event when you need to quickly outline a timeline and list of deliverables.
Ask additional questions to get the content in a shareable format before ever opening a spreadsheet
Create segmented tables to share with writers or designers with creative direction, suggested length, etc.
Transcribe meeting notes, create automatic summaries to share
One example we've seen is OtterAI, which automatically transcribes meetings by joining a virtual meet
Creates automatic summaries that can be shared, or you could ask ChatGPT to summarize further into bullet points, using audience tailoring tips from earlier (ex. "Rewrite this summary tailored to an audience of business owners. Simplify urban planning jargon to make it more accessible.")
GPT CHATBOT DEMO
Pearl, the Downtown Boulder Chatbot
Trained on Downtown Boulder's Business Resource pages using GPT3.5 on the backend

Ask questions as a local business such as, "Who do I talk to about sign code?" or "What jobs are available for hotel managers in downtown Boulder?"
Special thanks to Terri & the Downtown Boulder crew!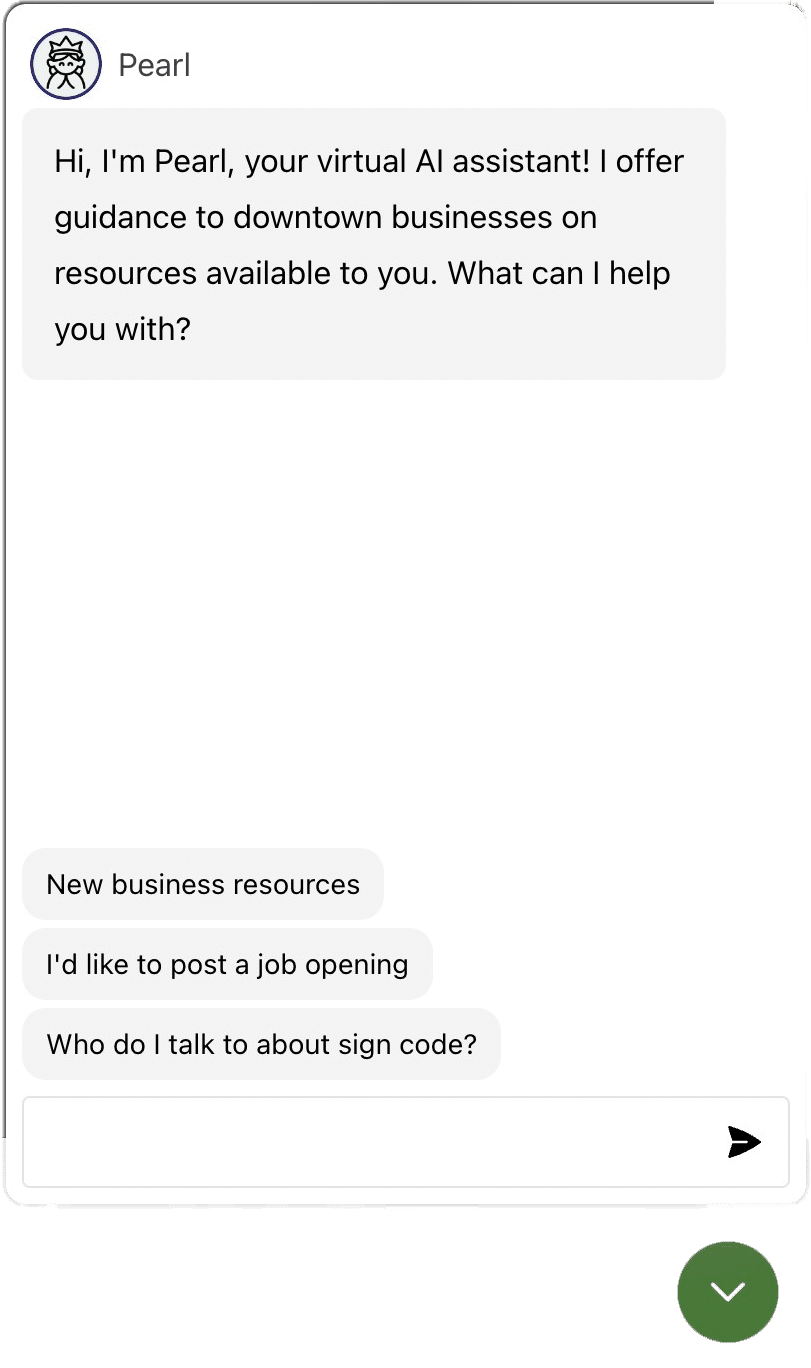 I hope this session was useful to you! The remainder of this session will be used for discussion. If you have a second, please submit a quick note for us or feedback.
If you'd to explore further possibilities with AI and would like to schedule a consultation, fill out the form or send me an email at Cody@caratapp.io.